For a while now I have been interested in learning how to code and build websites. I must admit that my web design course didn't go as well as I'd hope. Things moved so fast and by the time I'd finally get the hang of one thing we were already on to the next. I managed to play catch up and earn an 'A' as my grade for the course, but I didn't feel like I had learned enough well enough to confidently add coding to my resume.
When I heard about the coding workshop I was so excited to gain a better understanding of coding. The course starting in the middle of the semester threw me off a little, and I missed the first couple of assignments, but it was not hard to get caught up. All of the material was so easy to understand.
The workshop on Saturday was so much fun. I enjoyed the fact that we had the assignment designed for us to follow along, but that we were also allowed a chance to actively apply what we had learned individually. I'm definitely more of a hands on learner and I felt so sure of everything that I learned. This course gave me the confidence I needed on my coding skills to allow that skill to grace my resume.
I also enjoyed the small class size (plus, plus, plus),
Here's a picture of some of the code that I used to create my quiz for our worship activity…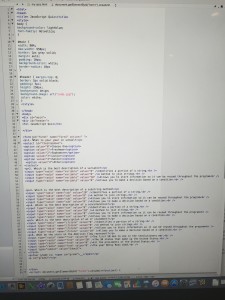 In my experience as a coder…